Disney Cruise Line offers four state of the art cruise ships designed with that famous Disney touch to offer the ultimate in family vacations. With sailings in the Caribbean and Bahamas, to Europe and the Mediterranean, along the Pacific coast and Alaska, there is something for everyone on a Disney cruise.
As much as I love visiting the Disney theme parks, a Disney cruise is more like a 'real vacation'. There is very little preplanning to do – no FastPasses, no dining reservations, no buses to catch, no running from one place to another.  On a Disney cruise you can be as active or as chill as you want to be.
For the active set there are planned activities and events all day long.  From bingo, to trivia, to wine tastings, cooking classes, first run movies, crafts, a full fitness center and much more.
For those of us looking to just relax there are pools – both family pools and adult only pools, there is a full service spa on every ship and all over the ship are quiet areas to just sit and watch the ocean go by, read a book or grab a nap in the sun.  Many times, we'll go to our cabin and sit on the veranda or close the curtains and watch a favorite Disney movie on the in-room TV (this often  leads to another one of those naps).
For the kids, there is nothing like the Disney Cruise Line Kids Clubs with planned activities and trained counselors available all day and in to the evening.  There are separate clubs for the younger kids, the tweens and one for the teens.  There is even a location of the Kids Club on Castaway Cay – Disney Cruise Line's private island in the Bahamas.
Disney Cruise Line is not just for kids – there is plenty for the adults to enjoy as well.  Throughout the ship there are several areas for adults only.  There is an adults only pool area, there are adult only restaurants and an entire adult district of nightclubs and lounges.
It's Disney, so there are several things unique to Disney Cruise Line – things that I call part of the Disney Difference.
First of all, there's that incredible level of personal service and attention to detail that have earned Disney Cruise Line the title of Best Service for many years.
Disney Cruise Line also has their original Rotational Dining program so every night your family is eating in a different restaurant, but with the same service team.  I tell clients all the time how their meals and service team will probably be the most memorable part of their vacation.
Most sailings in the Caribbean and Bahamas include a day at Castaway Cay, Disney Cruise Line's private island in the Bahamas with beaches (family and adult only), dining locations, beach bars, planned activities and more.
An of course there are the Disney characters. Mickey Mouse and friends, the Disney Princesses, Marvel superheroes and more on every cruise.
During certain times of the year there are special Halloween and Christmas sailings, along with Marvel and Star Wars cruises.
I've sailed multiple times on all four Disney ships (did I mention there are 3 more ships on the way), dined in all the restaurants, visited multiple ports, taken part in loads of on-board activities…and taken a lot of naps.
As your Certified Professional Disney Planner, I will help select the right ship and itinerary for your family, I help you plan Port Adventures and excursions and on-board activities.  Plus, I'll always be available to answer any questions or handle any concerns that may come up.
I want to make sure you are totally prepared for cruise so you and your family can have the most enjoyable, relaxing, and stress-free vacation possible.
And remember, there is never any additional cost or fee for planning and booking your Disney Cruise Line vacation with me.
My Latest Disney Cruise Line Blog Posts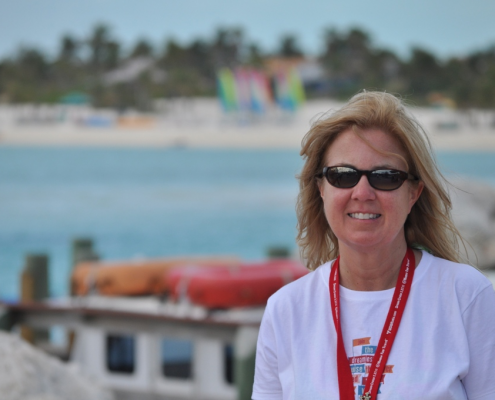 For so many cruisers their day at Castway Cay is the favorite part of a Disney cruise – check out these 8 things that make Disney Cruise Line's private island a cut above. 
http://www.mousefanmargaret.com/wp-content/uploads/2018/10/CastAwayCayBlog.png
680
1024
Margaret Caffey
http://www.mousefanmargaret.com/wp-content/uploads/2019/10/Logo-Copy-to-play-with.png
Margaret Caffey
2018-11-02 21:26:55
2019-02-04 23:15:30
Why Everybody Loves Disney Cruise Line's Castaway Cay
The Oceaner Club and Oceaner Lab – the kids clubs for the 4 – 12 year olds on Disney Cruise Line
Margaret Caffey made our family Disney Cruise possible! She's very knowledgeable about everything Disney! Our multi-generational family of 13 had a fantastic time and we loved all of activities available to us on and off the ship. I would have never been able to coordinate this trip without Margaret's help! As a first-time Disney cruiser I needed her advice on Staterooms, length of cruise and recommendations on excursions. She's very responsive and was able to answer all my questions! Went above and beyond all expectations!
Thank you, Margaret, we had a wonderful time! It was a vacation of a lifetime!!
Sheila F
If you're to ready start planning your family's Disney vacation, if you need more information or if you just want to ask a question call me at 901-828-6354, email margaretc@mei-travel.com or use the Send Margaret A Message' button.
Remember there is never any additional cost or fee for using my services.
For more updates and Top 5 Lists check back here often and follow me on Facebook at www.facebook.com/MouseFanMargaret.