To me Adventures By Disney is the ultimate way to travel for families to destinations all around the world and around the United States so I wanted to expand on 'ABD' just a little and share what you can expect on an adventure.
For my example I picked the England and France vacation because that one is on my 'to do' list…but first let's talk about what you can expect from an Adventures By Disney vacation.
* Adventure Guides
Become part of the story as you experience amazing destinations with the expertise and guidance of 2 Adventure Guides who attend to every detail of your travels as well as make recommendations for family meals and things not to miss during your adventure.
* Authenticity
Engage with the people, cultures and traditions in ways that show you more than just the sights. With your Adventure Guides and local experts, you'll see the world as only Disney can show it to you.
* Hassle-Free Travel
Whatever your adventure you can be sure that when you travel with Adventures by Disney your trip will include transportation, transfers, snacks and an array of amenities that will ensure your vacation is hassle-free.
Here's what's included on every Adventures By Disney trip: The services of 2 Adventure Guides, Outstanding Accommodations, Admission Fees To Attractions and Performances, VIP Access and Private Events, Most Meals During Your Trip and Cultural Experiences With Local Experts
Our England and France trip visits London, Windsor, Paris and Versailles.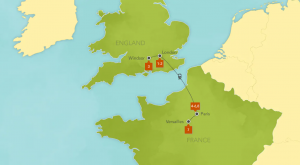 It is 8 days and includes 13 meals and visits to 21 sites.
Here are some highlights from each day:
Day 1 – London – Arrive in London, Welcome Reception & Dinner at the Hotel
Day 2 – London – Private Royal Crown Jewels Visit, Privately Guided Tour of Tower of London, River Thames Speedboat Ride
Day 3 – London – Archery in the English Countryside, Windsor Castle, Queen Mary's Dollhouse
Day 4 – Paris – Wine Tasting at La Bonne Franquette, Guided Walking Tour of Montmartre, Paris Welcome Dinner
Day 5 – Paris – Eiffel Tower Tour, Gourmet Chocolate Museum Workshop
Day 6 – Paris – Nôtre Dame Cathedral Tour, Tour the Louvre & Art Detective Game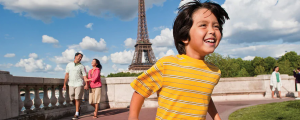 Day 7 – Paris – Château de Versailles, Bike Ride in the Gardens of Versailles, Farewell Dinner in Paris
Day 8 – Paris – Transfer to Charles de Gaulle Airport
Of course, these are just the highlights, there will be more experiences and surprises during the trip
If you want to do this vacation the 'Margaret Way' there is an option to add up to 6 additional days at Disneyland Paris.
* There are some adult only Adventure By Disney vacations including a few European river cruises.
If you're to ready start planning your family's Disney vacation, if you need more information or if you just want to ask a question call me at 901-828-6354, email margaretc@mei-travel.com or use the Send Margaret A Message button.
Remember there is never any additional cost or fee for using my services.
For more updates and Top 5 Lists check back here often and follow me on Facebook at www.facebook.com/MouseFanMargaret.
Check Out My Video About Our Recent Adventures By Disney Vacation