The original nickname for Walt Disney World was 'The Vacation Kingdom of the World'.  That name was used to let families know that Walt Disney World wasn't just a theme park (there was only the Magic Kingdom back then) but offered all sorts of activities.
That is still true today.  Walt Disney World offers so much more for families to do than just 'ride rides'.  Here are five of my favorite things to do outside the Walt Disney World theme parks.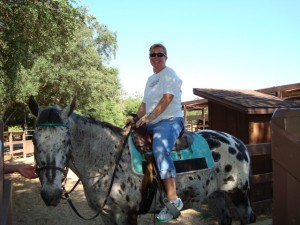 See A Dinner Show
Walt Disney World has two long running dinners shows that have been family favorites since the 1970's and both are loads of fun.
Disney's Spirit of Aloha Dinner Show is held most nights at Luau Cove at Disney's Polynesian Village Resort.  The show features hula dancing, fire dancing and all types of Polynesia music and fun.
Spirit of Aloha includes an all-you-care-to-enjoy dinner that includes salad, Aloha pulled pork, Polynesian ribs, roasted chicken and a vegetable medley.  For dessert there is pineapple-coconut guava cake with chocolate crunch!
There is also a kid's menu that includes mini corn dogs with tater tots, cheese pizza, and either grilled chicken or fish of the day with rice and green beans
Over at Disney's Fort Wilderness Resort and Campgrounds there is the Hoop-Dee-Doo Musical Revue – 2 hours of rousing Wild West dancing, singing and zany vaudeville comedy.  Get ready to clap your hands, stomp your feet, sing along and have a good ol' time at rustic Pioneer Hall.  There just might be a little audience participation too.
The Hoop-Dee-Doo menu features all-you-care-to-enjoy fried chicken and smoked BBQ pork ribs, as well as a tossed green salad, baked beans, fresh-baked cornbread and strawberry shortcake.
I've done both of these shows several times and they are a ton of family fun.
* of course, the menus can change at any time.  Always check with me for the latest information
Anything at Fort Wilderness
Disney's Fort Wilderness Resort and Campgrounds is the place at Walt Disney World for outdoor family fun. The first time I ever rode a horse was just a few years ago at Fort Wilderness.  In addition to horseback riding for us bigger kids, there are pony rides, archery lessons, wagon rides, bike rentals, boat rentals and more.
At night there is Chip 'n' Dale's Campfire Sing-A-Long where you can meet Chip and Dale, roast marshmallows (you have to buy them), join in the Cowboy Sing-A-Long and then finish the night with a movie.
Play Mini Golf
Walt Disney World has three mini golf courses that can be tons of family fun.  Fantasia Gardens is near the Epcot resort area has two courses – a traditional mini golf course and a and fairways course that is built like a traditional golf course.
Winter Summerland is at the Blizzard Beach water park and has two mini golf courses themed to Santa's elves.
Watch A Movie At Your Resort
Almost every night each Walt Disney World resort has Movies Under The Stars for resort guests.  Disney favorites are shown on big blow up screens set up on the lawn, at the pool or maybe on the beach.  It's a great way to sort of wind down for the day.
Each resort has a different schedule for Movies Under The Stars and you will be given a schedule when you check in or of course just ask at the front desk anytime.
Resort Pool Time
Pool time is always a part of my Walt Disney World trip.  Each resort has at least one pool.  At the deluxe resorts there will usually be two pools – a 'regular pool' and a 'quiet pool'.  The deluxe resorts will have water slide and most have a kid's water play area.  There will also be a hot tub in the pool area.
The pools will also have a quick service food option and a bar so you don't have to leave for lunch.
There are youth activities cast members at the pools for most of the day to led the kids in games and activities pool side.
Can we go swimming in January?  Sure you can – all the Walt Disney World pools are heated so you don't really have to worry about the water temperature.  )Just remember that while the water may be warm the outside temp could be cool)
So what's my favorite pool? I enjoy all the pools but nothing beats Stormalong Bay at Disney's Yacht and Beach Club resorts.  There is a large pool with a sand bottom, a little lazy river and a great water slide.  There's even a sand beach and mini slide for the little ones.
Add in plenty of deck chairs, a great little quick service restaurant and bar and you've got a real retreat.
If you're to ready start planning your family's Disney vacation, if you need more information or if you just want to ask a question call me at 901-828-6354, email margaretc@mei-travel.com or use the 'Send Margaret A Message link.
Remember there is never any additional cost or fee for using my services.
For more Top 5 Lists and updates check back here often and follow me on Facebook at www.facebook.com/MouseFanMargaret.