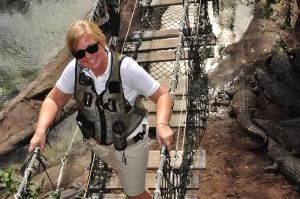 Walt Disney World offers so much more for families to do and experience than just visiting the theme parks and riding the rides.
Check out these animal encounter experiences you can do at Animal Kingdom and Epcot
Animal Kingdom
Caring for Giants
Get a closer look at the majestic African elephants at Disney's Animal Kingdom park—and learn what it takes to care for them.
During this 60-minute experience, you'll meet with dedicated animal specialists who provide for the care and wellness of our African elephant herd. They'll give you a glimpse into their day-to-day responsibilities as they provide fascinating facts about the elephants.
Throughout this experience, you'll be able to observe the elephants from approximately 80 to 100 feet away—so you'll enjoy a closer encounter with the elephants than you would during other in-park experiences.
Guests must be 4 years of age or older to participate.
Up Close with Rhinos
Meet these mighty—but gentle—giants in a special viewing area for a wildlife experience like no other!
Get ready for your close-up with the white rhinoceros—Earth's second-largest land animal. In this 60-minute guided adventure, the rhinos' keepers will take you backstage to meet these massive creatures as few people ever do.
As your guides introduce you to the park's white rhinos, they'll offer fascinating insights into the species' behavior and biology and discuss the challenges that threaten populations in the wild.
Guests must be 4 years of age or older to participate.
Savor the Savanna: Evening Safari Experience
Welcome the evening at Disney's Animal Kingdom park with a private safari, African-inspired tapas, beverages and more.
Your safari begins with a journey deep into the heart of the Harambe Wildlife Reserve. As the evening awakens, you'll soon find yourself within one of the most secluded and breathtaking private viewing areas the Savanna has to offer.
While savoring the Savanna scenery, you're invited to indulge in a sampling of African-inspired cuisine too, paired with a selection of regional beer and wine offerings.
Guests must be at least 8 years of age to participate in this experience.
Wild Africa Trek
* this is one of the most amazing experiences I've had at Walt Disney World.  The photo is me during the Trek.
Thrill to close encounters with exotic African wildlife on Wild Africa Trek—a privately guided VIP expedition at Disney's Animal Kingdom park!
Be awestruck viewing wild animals in their natural habitat on the 3-hour Wild Africa Trek. On this privately priced tour, discover animals of nearly every variety living in the Safi River Valley—an uninhibited environment that resembles their home turf in Africa.
Walk along a grassland path, cross a rope bridge and ride in a rugged safari vehicle over an open savanna—with a chance to view African creatures including towering giraffes, powerful rhinos, hippos and crocodiles.
Along your journey, your knowledgeable guide will share insights about the majestic animals you're viewing as well as the general operation of Disney's Animal Kingdom park and details about the park's dedication to animal conservation.
Work up an appetite during your trek and then enjoy some first-class, African-inspired snacks.
Enjoy your encounters with the animals of the Harambe Reserve while a trained photographer captures all the action and excitement throughout your adventure—a service that's included with your tour.
Participants must be 8 years of age or older and at least 48 inches tall.
Epcot
Dolphins in Depth
Meet the dolphins of The Seas with Nemo & Friends Pavilion and learn about their complex undersea behavior.
During a 3-hour Epcot experience that wraps up with a once-in-a-lifetime photo op and a souvenir, you'll talk to the expert trainers and researchers who work with our bottlenose dolphins every day.
Gain a better understanding and greater appreciation of these wondrous creatures as you:
Interact with our dolphins in waist-deep water for approximately 30 minutes.
See firsthand how we care for the dolphins day to day.
View backstage areas and learn how the dolphins are trained.
Sit in on a training and research session with our team of marine mammal specialists.
Participate in conversations about global issues affecting ocean life.
You do not need to swim or be SCUBA-certified to take part in this experience.
There are actual dive experiences at the Seas Pavilion in Epcot that do require SCUBA certification – let me know if you would like more information about these.
All these experiences require a separate purchase as well as theme park admission. As always, check with me for details.
If you're to ready start planning your family's Disney vacation, if you need more information or if you just want to ask a question call me at 901-828-6354, email margaretc@mei-travel.com or use the Send Margaret A Message button.
Remember there is never any additional cost or fee for using my services.
For more updates and Top 5 Lists check back here often and follow me on Facebook at www.facebook.com/MouseFanMargaret.