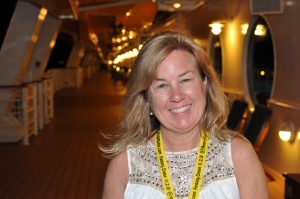 I'm one of the luckiest people in the world because I get to spend every day doing what I love: talking to people about travel, and especially Disney travel. I have been to Walt Disney World and Disneyland and on Disney Cruises and traveled with Adventures By Disney and even been to Disneyland Paris more times than I can count. I've stayed at just about every resort, eaten in just about every restaurant, sailed on every ship and experienced almost everything you can with Disney travel.
I've been there with a toddler, with a teenage, as a couple, and with a large group.  I've gone by plane and gone by car. I've taken buses and boats and monorails, I've ridden in taxis and rented cars. I've gone for a day trip and stayed for more than two weeks.
All that experience, plus being a graduate of the Disney College of Knowledge, means I can help you plan a Disney vacation that is tailor-made just for your family, your situation and your preferences. I want to make sure you have the most enjoyable, relaxing, and stress-free vacation possible.
In addition to Disney destinations, I love planning vacations across the US, to beaches in the Caribbean or Mexico, European adventures and all types of cruises. Most of all I love helping clients make life long memories.
And remember – there is never any additional cost or fee for using my services.
Don't ever hesitate to contact me if you have any questions or want more information.
Email me at margaretc@mei-travel.com, call or text me at 901-828-6354 or use the Send Margaret A Message button.
How Much Does It Cost To Have Me Plan and Book Your Disney Vacation?   Nothing…Zero…Zip.
Check Out My Video To Learn About My No Fee Travel Planning
Margaret took ALL of the anxiety out of the process, offering a variety of great options and sharing her incredible breadth of knowledge. Her recommendations were spot-on. Our trip was just wonderful, and while we were on-the-go the whole time, we were so relaxed. We had a great time! When we go back–something I never anticipated saying–I will not hesitate to make Margaret my first contact!   Kristy B