You don't have to miss your workout just because you're on vacation. There are plenty of ways to stay fit at Walt Disney World.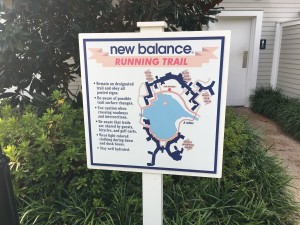 Running Paths
There are running/jogging/walking paths all over the Walt Disney World resorts. Each hotel will have a dedicated and measured route or you can just improvise.  The concierge at your hotel will have a map of that resorts measured route – just ask for a copy in the lobby.
* If you want to get in a long run I suggest heading over to the Wilderness Lodge/Ft Wilderness area.  There are lots of long shaded pathways connecting those two resorts that are great for running.  That's where David and I go when we want to get in a longer training run.
Resort Fun Runs
These aren't listed on the Walt Disney World website but many of the resorts have a 'fun run' a couple of mornings each week.  These are usually no more than 1.5 miles but the whole family can participate.  There will be a small fee but that usually includes a medal and some king of post-race treat.
Each resort has a different schedule so ask when you check in or at the concierge desk.  These runs are in the morning and typically registration starts 30-60 minutes before the scheduled run.
You do not have to be staying at a resort to participate in their fun run.
Fitness Centers
Many of the Walt Disney World resorts have 24 hour fitness centers that have treadmills, regular and recumbent bicycles, and elliptical trainers. For those looking to strength train, free weights and weight machines are on site.
Bike Rentals
Bike rentals are available at Disney's Wilderness Lodge and Ft Wilderness Campground, Disney's Caribbean Beach Resort and the Port Orleans Resorts.  You don't have to be staying at the resort to rent bikes.  I would again strongly suggest renting bikes at the Wilderness Lodge or Ft. Wilderness as there plenty of tree lined pathways to ride on.
Surry Bikes
For a different type of cycling experience rent a 2, 4 or 6-person Surrey bike for an outing that's fun for the whole family!
Surry Bikes are available at Disney's Boardwalk Resort and the Port Orleans Resorts.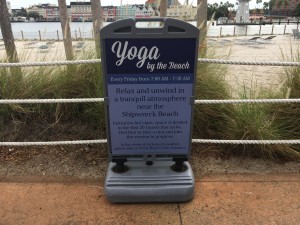 Yoga
During parts of the year a morning yoga practice will be offered at some of the resorts – usually the Contemporary, Grand Floridian or Yacht & Beach Club.  Mats are provided.   Again, these are not regular events so ask at the resort when you check in.
Tennis, Volleyball and Basket
Several resorts offer tennis, volleyball and/or basketball courts.  Depending on the sport equipment is available complimentary or for a small rental fee.
If you're to ready start planning your family's Disney vacation, if you need more information or if you just want to ask a question call me at 901-828-6354, email margaretc@mei-travel.com or use the Send Margaret A Message button.
Remember there is never any additional cost or fee for using my services.
For more updates check back here often and follow me on Facebook at www.facebook.com/MouseFanMargaret.