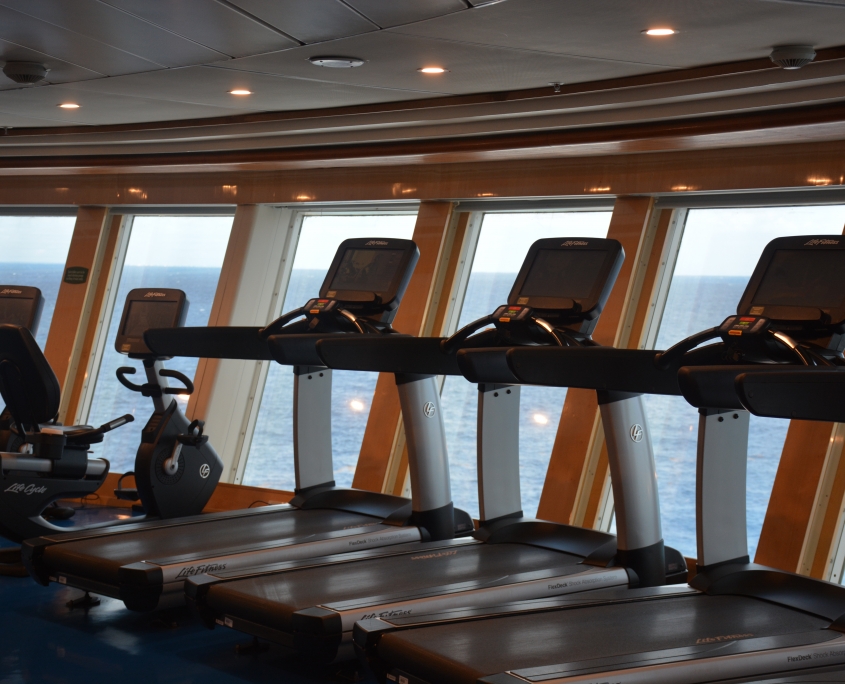 You don't have to miss your workout just because you're on vacation. There are plenty of ways to stay fit during your Disney Cruise Line vacation.
Fitness Center
All the Disney Cruise Line ships have a fitness center in the spa.  They feature leading edge cardiovascular equipment, treadmills and ellipticals. There are also weight machines and free weights.  There is no charge to use the fitness center.
There are also some complimentary fitness classes like cycling, yoga and Pilates (you'll need to sign up for these ahead of time).
Yoga is usually offered on Castaway Cay at Serenity Bay – the adult only beach.  Ask at the Fitness Center or check your Navigator or Navigator app.
A Body Sculpt Boot Camp and Personal Training are offered for an additional fee.
Use of the Fitness Center is complimentary for Guests 14 years of age and older. Guests between the ages of 14 and 17 must be accompanied by an adult or guardian to enter.
If you think you're at all interested in the Fitness Center, I suggest you visit during the Spa open house on embarkation day.  The staff is available to give you a tour of the facility and answer any questions.
Running/Walking On The Promenade Deck
All Disney Cruise Line ships have a track for jogging and walking encircling Deck 4.
The Disney Fantasy and Disney Dream tracks are .4 mile per lap – just eight laps equal a 5K.
Magic and Wonder each lap is 1/3 mile.
The distances are clearly marked
Castaway Cay 5K
Each time a Disney Cruise Line ship visits Castaway Cay – Disney's private island in the Bahamas – there is a 5K race you can participate in, and yes, you will get a medal!
To sign up for the race you'll need to visit Guest Services your first day on the ship.
The night before the race you'll receive instructions in your cabin about where to meet and when to meet.  The race is held early in the morning before 'regular' guests can disembark for the island.
The Castaway Cay is an untimed fun-run with all levels of runners and walkers participating.
Wide World of Sports Deck on the Magic & Wonder and Goofy's Sports Deck on the Dream & Fantasy.
The sports decks on all the ships feature a basketball court for a little shoot-around or a full game.
Take The Stairs
One of my fantastic clients mentioned this and I just had to add it to this post!
During your cruise you'll be going up and down the decks of the ship – up to the pool deck, down to the dining rooms, etc.  Well instead of taking elevators try taking the stairs.  There are several sets of stairs forward, midship and aft that are great way to get in just a little more exercise during your trip.
** Check out my blog post about staying fit at Walt Disney World here: http://bit.ly/WDWFit
If you're to ready start planning your family's Disney vacation, if you need more information or if you just want to ask a question call me at 901-828-6354, email margaretc@mei-travel.com or use the Send Margaret A Message' button.
Remember there is never any additional cost or fee for using my services.
For more updates and Top 5 Lists check back here often and follow me on Facebook at www.facebook.com/MouseFanMargaret.