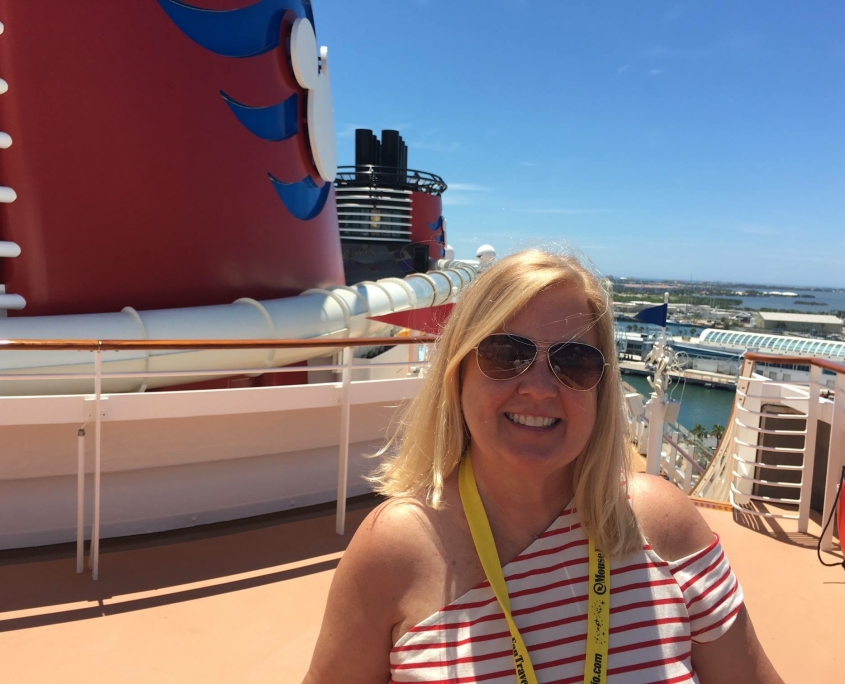 I tell people all the time that the reason I love a Disney cruise is because it is a real vacation.  There's basically nothing to plan ahead of time and except maybe for dinner you're not on a schedule (and you don't have to be at dinner if you don't want to). Plus there is enough to do to keep everyone in  the family occupied or enough places to relax, chill out and not do anything.
Here are five of my favorite things to do on a Disney cruise…but my list is a lot longer than just five things and I'll share more with you down the road.
Take Advantage of The Kids Clubs
The kids clubs on Disney Cruise Line are like nothing you'll find anywhere else.   There are no casinos on the Disney Cruise Line ships, instead that space is used for the massive kid's area.  It's also a parent's dream – it offers a secure, supervised place to play (and learn) while the parents take advantage of other things on the ship.  I tell parents all the time don't be surprised when your kids don't want to leave the club.
The Oceaneer Club and Oceaneer Lab are for ages 3 – 12 and is the largest kids area on the ship.  The Club is divided in to different rooms with different themes – Marvel, Star Wars, Pixar, Mickey, etc. and features all kinds of activities led by counselors and activities the kids can do on their own.  In the Lab the kids can draw, do 'science experiments' and more.
Edge is a space for teens age 11 – 14.  Edge features TVs, video games along with staff guided activities.
Vibe is a hang out or the older teens age 14 – 17.  Like the other clubs Vibe has activities and a staff more geared to their age.
The Kids Clubs on all the ships are the same but some of the themes will be different.
There is also a 'branch' of the kids club on Disney Cruise Line's private island, Castaway Cay
Adult Quiet Pool
The main pool on the ships are amazing with slides, the AquaDuck, movies on the big screen and more.  If you're looking for something a little calmer though, check out the adult only pools (see why I like the kids clubs).
All the ships have at least one adult pool but the Dream and Fantasy also have an area called Satellite Falls and this is my spot.  There's not really a pool but there's a great water feature (it's kind of hard to describe) that you can lounge in, plus lounge chairs both in the sun and in the shade.  This is definitely the quiet spot on the ships.
See The Shows
This is Disney so the shows are fantastic and are great fun for the whole family.  They are all original Broadway style and Broadway quality shows designed just for the Disney Cruise Line ships.  Some shows are on all the ships but then each ship will have at least one show that no one else has.
Shows for your cruise are listed in the Daily Navigator and on the Disney Cruise Line Navigator app.  The shows are presented twice each night to accommodate the different seating times for dinner.  Some of the more popular shows may have a matinee during your cruise as well.
Enjoy The Dining Rooms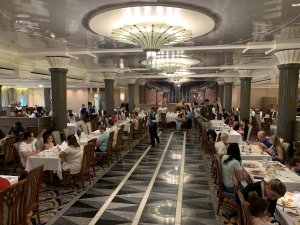 Disney Cruise Line has a unique dining program called Rotational Dining.  Each ship has three main dining rooms and you rotate between the dining rooms over the course of your cruise.  But it's not just you that 'rotates' – your wait staff does too.
You'll have the same server, assistant server and head waiter each night and these crew members will become your best friends on the ship.  They will quickly get to know what you and your kids like and don't like and will truly go out of their way to take care of you.  These are the crew you'll be talking about for months after your cruise.
Of course, the dining rooms also have tons of great food and remember it is essentially 'all you can eat'.  See two entrees that sound good then order both – I promise they don't mind.  Want a Mickey Premium Ice Cream Bar – just ask.  They are going to do whatever they can to meet special requests, special dining or allergy restrictions, etc.
* Two of the ships have a really fun dining room that is part interactive show/part regular dinner service and these are super fun.  The Disney Wonder has Tiana's Place and the Disney Magic has Rapunzel's Royal Table
Complimentary Room Service
In addition to the dining rooms, the buffet, the adult restaurants and the pool deck quick service dining locations room service is free on all the Disney Cruise Line ships.  On some longer cruises we've been known to order a couple of cheeseburgers and lay in the bed watching movies on the TV.  You can also get continental breakfast items and coffee in the morning (take that coffee, sit on your veranda and watch and listen to the ocean go by in the morning as the sun is coming up – I promise there's nothing quite like it).
But the best part of complimentary room service is you can get all the Mickey Premium Ice Cream bars you want, any time you want, as many as you want brought to your cabin!
If you're to ready start planning your family's Disney vacation, if you need more information or if you just want to ask a question call me at 901-828-6354, email margaretc@mei-travel.com or use the Send Margaret A Message button.
Remember there is never any additional cost or fee for using my services.
For more Top 5 Lists and updates check back here often and follow me on Facebook at www.facebook.com/MouseFanMargaret.