Want to add something a little different to your Walt Disney World vacation? Ever wanted to see a little 'behind the curtain' at the theme parks?  Walt Disney World offers several tours in the theme parks that can be both fun and informative.
Here are my 5+ favorite Walt Disney World Magic Kingdom Backstage Tours.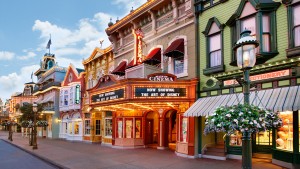 Backstage Magic
Let's start with the big one that goes to the Magic Kingdom and more.  This tour lasts 7 hours and visits locations all around Walt Disney World.  You'll go backstage at the American Adventure in Epcot, you'll see the underground utilidors at the Magic Kingdom, you'll visit Central Shops where lots of the ride vehicles and more are maintained, you'll go to Creative Costuming where all the cast member and character outfits are made, stored and distributed plus lots of other cool stuff.  Lunch is included.  Guests must be at least 12 years of age to participate in this tour.
Disney's Family Magic Tour at the Magic Kingdom
This one isn't a backstage tour – it's more like a family scavenger hunt around the Magic Kingdom with some fun facts and Magic Kingdom history added in.  It's for the whole family but is especially designed for kids ages 4 – 10.  The tour lasts approximately 2 hours.
Disney's Keys To The Kingdom Tour at the Magic  Kingdom
An in-depth 5 hour tour of the Magic Kingdom.  This one is for the older kids and adults.  You'll learn about some the iconic attractions, you'll learn about Walt Disney, you'll visit the utilidors plus more.  Lunch is included.  Guests must be 16 years of age or older.
Walt Disney: Marceline to the Magic Kingdom Tour
Discover how key events in Walt Disney's life inspired the creation of Magic Kingdom park on this 3-hour walking tour.  This tour is more suited for adults, though guests as young as 12 years of age may attend.
Disney's The Magic Behind Our Steam Trains Tour
This is a really cool one.  You'll learn all about Walt Disney World's steam trains, go for a ride and you'll get to go backstage to the roundhouse where all the trains are stored. Guests must be 10 years of age or older.
Note that this tour starts at 7:30am so you have to make transportation plans to be at the Magic Kingdom by 7:15am.  You can take an Uber or taxi to the Contemporary Resort and walk over – there will not be buses at that time of the morning.
Taste of the Magic Kingdom – just added for February 2019
On this new 3 hour tour you'll hear from the chefs that create the food for the Magic Kingdom, you'll go behind the scenes and see some the amazing kitchens and production facilities and of course, you'll get to sample some Magic Kingdom favorites and possibly some new creations the culinary teams are trying out. Guests must be at least 12 years old for this experience.
A few things to remember – theme park tickets will be required for most of these tours, ID verifying guest's ages may be required, these tours require a lot of walking so keep the proper shoes and clothing in mind.
These are just the tours at the Magic Kingdom – there are other backstage tours in other theme parks including 'animal encounter' tours at Animal Kingdom.  I'll be sharing more about those down the road. The are also other tours during special events like the Flower & Garden Festival and during the holidays.
If you have any questions about backstage tours at Walt Disney World please don't hesitate to ask me – that's what I'm here for.
If you're to ready start planning your family's Disney vacation, if you need more information or if you just want to ask a question call me at 901-828-6354, email margaretc@mei-travel.com or use the 'Request A Quote' link.
Remember there is never any additional cost or fee for using my services.
For more Top 5 Lists and updates check back here often and follow me on Facebook at www.facebook.com/MouseFanMargaret.