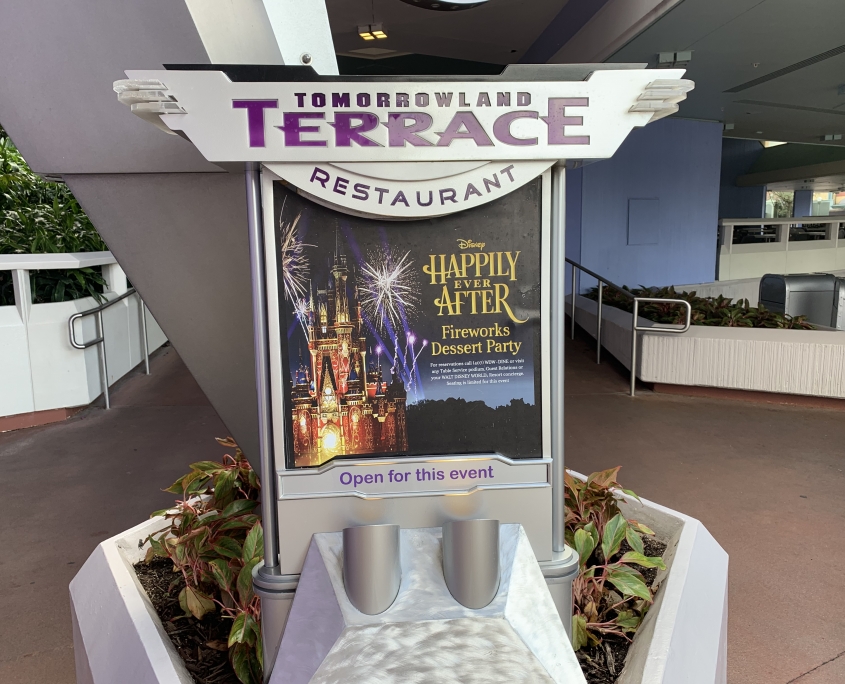 Everybody loves fireworks and Walt Disney World has amazing fireworks shows every night of the year.
While there's always something memorable about staking out your spot early for a Walt Disney World fireworks show there are some 'better' ways to do it – like a Walt Disney World fireworks dessert party or fireworks cruise.
Magic Kingdom – The Fireworks Dessert Party at Tomorrowland Terrace
 Enjoy an all you can eat dessert buffet with beverages before viewing the Happily Ever After fireworks show.  This party includes a selection of beer and wine for guests 21+. At this party you are assigned a table with chairs where you stay to watch the fireworks.
Magic Kingdom – Fireworks Dessert Party with Plaza Garden Viewing
You'll enjoy the same dessert buffet and be seated at a table for that portion.  For fireworks viewing you move to an reserved location in the plaza area in front of the castle.  Seating is on the ground but most people will stand when the fireworks begin.
Magic Kingdom – After Fireworks Dessert Party
Watch the Magic Kingdom fireworks from a reserved area in the Plaza Gardens and then after the show enjoy the full dessert buffet at Tomorowland Terrace. This party includes a selection of beer and wine for guests 21+
Magic Kingdom – Signature Celebration Package
In addition to enjoying a scrumptious dinner at Cinderella's Royal Table, you will be able to take advantage of reserved "Happily Ever After" fireworks viewing in the West Plaza Garden (a separate area for guests of this package) before joining the After Fireworks Dessert Party at Tomorrowland Terrace.
Magic Kingdom – Holiday Dessert Parties
Versions of the Tomorrowland Terrace Dessert Party are held during Mickeys Not So Scary Halloween Party and Mickey's Very Merry Christmas Party special events.  Both of this events have special fireworks themed to the season and the dessert parties are themed as well.
Disney's Hollywood Studios – Star Wars: A Galactic Spectacular Dessert Party
This one is my favorite.  The desserts (plus some other snack options) are set up inside the Launch Bay Star Wars attraction. This party includes a selection of beer, wine and specialty mixed drinks for guests 21+. What's really fun is it's right next to the Star Wars characters meet-and-greet area and you're free to come and go between the two and the rest of the Launch Bay while it remains open.  I also think the food options are a little better. Note their are several tall tables but no chairs.
As it gets close to time for the fireworks you are escorted by Storm Troopers to a closed viewing area right in front of the show.  The show is much more than just fireworks with lasers, projections, fire guns and more.  As you leave the Launch Bay they also (as of now) give everybody a cool Star Wars souvenir.
* In November and December this is replaced by the 'Jingle Bell, Jingle JAM' dessert party and show.
Disney's Hollywood Studios – Fantasmic! Dessert Show & VIP Seating
While not really a fireworks show Fantasmic! is a super popular nighttime show that always draws a big crowd and requires guests to arrive plenty early to get a seat.
For this event your are given a treat box with both desserts and savory snacks along with a beverage (both alcoholic and non-alcoholic choices are offered) and escorted to a closed viewing area.
Disney's Hollywood Studios – Jingle Bell, Jingle JAM Holiday Dessert Party
During November and December the Star Wars nighttime show is replaced by this Christmas themed fireworks and projection show.  The dessert party is held in the Chinese Theater courtyard (outside) with banquet style seating.  There are multiple dessert and savory food options.  Beer, wine and some cocktails are offered along with specialty non-alcoholic beverages.  You'll also enjoy a special character greeting during the party.
* they will move the dessert party portion if there is rain.
Epcot – Frozen Ever After Dessert Party
Enjoy an array of Frozen-themed desserts before enjoying a seated view of Epcot Forever. This party includes a selection of beer, wine and specialty mixed drinks for guests 21+. After the show you'll be escorted to a private ride on the Frozen Ever After attraction in the Norway pavilion.
Later in 2020 there will be a new nighttime show at Epcot called HarmoniUS – as far as I know this dessert party will still be offered.
Animal Kingdom – Rivers of Light Dessert Party
Each night at Disney's Animal Kingdom, you can embrace the magic of nature during a beautiful nighttime experience called "Rivers of Light." With captivating special effects, music, and animal folklore, this incredible show celebrates the beauty of all living things. And now, you can celebrate the beauty of sweet desserts with the new Rivers of Light Dessert Party.
With this new dining experience, you can add a sweet ending to your day by enjoying a beautiful buffet of Disney's Animal Kingdom-themed desserts, snacks, and drinks before enjoying VIP views of "Rivers of Light."
FIREWORKS SPECIALTY CRUISES
Ferrytale Fireworks: A Sparkling Dessert Cruise
Sweeten your night at a party featuring dream-come-true desserts and dazzling water views of the fireworks from Magic Kingdom.  Climb aboard one of Disney's most iconic ferryboats for an unforgettable evening on the Seven Seas Lagoon.
Once you cast off, the celebration continues with a stellar selection of signature treats and specialty drinks—with or without alcohol—themed to the sparkling, shooting stars of the fireworks. There's even an ultraviolet scavenger hunt for the kids.
Pirates & Pals Fireworks Voyage
The adventure starts at Disney's Contemporary Resort, where your crew will be presented with a spread of seafaring party snacks like popcorn and ice cream novelties. A variety of refreshing hot and cold beverages—such as lemonade and Pirate Punch—is also available to quench even the most parched privateer's thirst before hitting the high seas. Then, get your camera and your best pirate voice ready—Captain Hook and Mr. Smee want to meet the new recruits before you set off!
Join the pirate parade to the dock and set sail on an unforgettable voyage with your captain, the roguish pirate Patch. Breathe in the salty sea air as you and your crew test your knowledge of Disney trivia, sing sea chanteys and brush up on all things nautical.
Drop anchor at the perfect spot to take in the nightly fireworks extravaganza—no spyglass needed!
Wishes come true at the Wishes Nighttime Spectacular as the sky over Cinderella Castle lights up like a gold doubloon in a brilliant pyrotechnic display choreographed to music and sounds from classic Disney films. Even landlubbers agree—it's the grandest display in Magic Kingdom park history.
Private Fireworks Cruises
Drop anchor for the world-class fireworks of Magic Kingdom or Epcot during an enchanting evening cruise.
21-foot pontoons hold up to 8 Guests and 25-foot pontoons hold up to 10 Guests. A Captain accompanies each Specialty Cruise, and assorted snacks and soft drinks are served.
Experience the fireworks within Epcot when your pontoon boat sails up International Gateway near World Showcase Lagoon.
Magic Kingdom cruises have synchronized audio on board to immerse you in the magic of the night.
These cruises can be 'plussed' for any occasion from birthday celebrations with balloons up to having Private Dining deliver a personalized birthday cake, champagne and strawberries, light appetizers or even a full meal to be enjoyed during your cruise.
You can even rent the Grand One yacht and sail from the Grand Floridian with a butler, full meals and bar for up to 17 people – or have an amazing romantic dinner for just two.
All of these experiences require the purchase of an additional ticket.
Prices for these experiences vary – please contact me for details.
** I do my best to keep this list updated but note that all of the offerings listed in this post are subject to change – always check with me for the latest information
These experiences sell out quickly! Just like dining they can be booked 180 days so I STRONGLY suggest booking them at the same time.